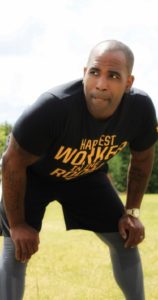 Marques Ogden
Marques, in 2003, was drafted into the NFL as an offensive lineman, after 5 years of playing in the league, he decided to retire and pursue a career in construction and contracting.  At the age of 27, Marques founded a construction company called Kayden Premier Enterprises. The company had fast growth and in 2010, Marques won The African American Subcontractor of the Year Award in the state of Maryland. Eventually, his business went bankrupt, losing almost 2 million dollars on one project in a matter of 90 days.
During his darkest hours, he pulled himself together, got a part-time job as a custodian, and with hard work and determination became an inspirational keynote speaker, executive coach, best-selling author, and marketing leader, helping to build the success of others.
Free Gift
Marques is offering free access to one of his online courses, called Mental Toughness Over Physical Limitations. 
To gain access click here below.